My husband and I had a fabulous 4-night stay at Peter and Cheryl's for our hiking trip in Yosemite! Their beautiful B&B is located within a short drive to the park itself and the nearby town with all the conveniences, yet it is far enough away to be completely surrounded by nature on their large property allowing you to feel more like a local rather than another tourist in a popular area.
Our room was very spacious, clean and comfortable, with high quality amenities, as was the rest of the house, most of which was available for use by guests. We had a great view of the scenery right from our room, and enjoyed beautiful sunsets on the private patio.
Each morning Peter spoiled us with lavishly delicious breakfasts that he hand-crafted using ingredients mainly grown or produced on the farm, and he was sure to serve us a completely different creation each day at a time that was accommodating to our schedule. He even sent us off with home-made banana bread on the early morning of our long hike to Cloud's Rest, which was a much appreciated snack while we enjoyed the view at the top (pictured)!
During breakfasts we were entertained by the hummingbirds at the outdoor feeders and great conversations with Peter. He has in-depth knowledge of the park and its surroundings, providing us with excellent suggestions for hiking trails, dinner, and other activities to do in the area. It was interesting to learn about all of the sustainable and eco-friendly projects that are being implemented on the farm and the ones planned for the future. We also had the opportunity to go out stargazing with Peter at a great viewing spot on the property, accessed by hiking trails that he is creating which we had fun exploring on our own during the day too.
We were given plenty of space and privacy to enjoy the property, and Peter was available at all times to chat with and answer our questions. Peter's enthusiasm for the B&B business, the farm, and interacting with guests, his generosity and personalised touches were refreshing and made us feel very welcomed. Foxtail Farm B&B is a destination in itself, and we hope to return one day to enjoy the property and warm hospitality!
Jennifer Renaud

As part of a California road trip, we wanted to stay somewhere close to Yosemite National Park, as this was going to be a highlight of the trip. Foxtail Farm is ideally located for access to the parks not just Yosemite but Sequoia and Kings Canyon.
The Ferguson Fire changed some of our plans but we decided that we would still go and stay with Peter and Cheryl. We are so glad that we did.
Foxtail Farm is set away for the road and sits in the middle of nature. Our room had a beautiful outlook and was really comfortable. Breakfast was accompanied by the battle of hummingbirds fighting over the numerous feeders. We were lucky to see 3 types whilst we were there.
Breakfast was delicious every morning and with fresh ingredients including wild blackberries picked the day before and a variety of bacon and pancakes. We both have our favourites. It was topped off with freshly squeezed orange juice and coffee.
As Yosemite was closed, we asked Peter for recommendations of where to go. He had a number of suggestions for us depending on what we wanted to do. We chose Bass Lake, where we had a lovely picnic from the local deli. We also travelled to Sequoia after an early breakfast, to beat the crowds.
We had some great conversations throughout our stay. It was great to hear about the plans for the farm and understand the how they plan to incorporate the surroundings into this.
Overall we had a really relaxing stay and were made to feel like family rather than guests. We are excited to come back again and see the progression including the goats, honey, vineyards and the cider!
Alex and Sarah Belsher
[Editors note: Kudos to Alex and Sarah for choosing to seek relaxation and finding it within an active fire zone]
A superb place for those who like to stay away from crowds - on this large property you can't even see or hear any neighbors! Beautiful view from the bedroom window, hummingbirds buzzing around the house. Peter, the hospitable host, is very knowledgeable of Yosemite park and surrounding area and would give a good advice on hiking in the park. Breakfast deserves a special praise - every morning we were treated with exquisite breakfast, and the menu was never the same over the six days of our stay! Excellent in every respect and highly recommended.
Dmitry Bogomolov and Veronica Semina
My fiancé and I had a wonderful stay at Foxtail farm. Our purpose for the visit was to explore Yosemite. Peter was knowledgeable and kind enough to share with us good suggestions about the park. He recommend a lovely route which we drove. Peter was very accommodating- we had a very early start on our first day and he organized a lovely packed breakfast which included generous portions of delicious home made granola and banana bread. His cooked breakfasts on the other mornings were to die for! He also gave great suggestions for dinner spots. Peter went the extra mile by taking us star gazing on his property one of the nights. It was a lovely personal touch! We would definitely recommend Peter's spot and will hopefully return to see Foxtail Farm again soon!

Emily & Thierry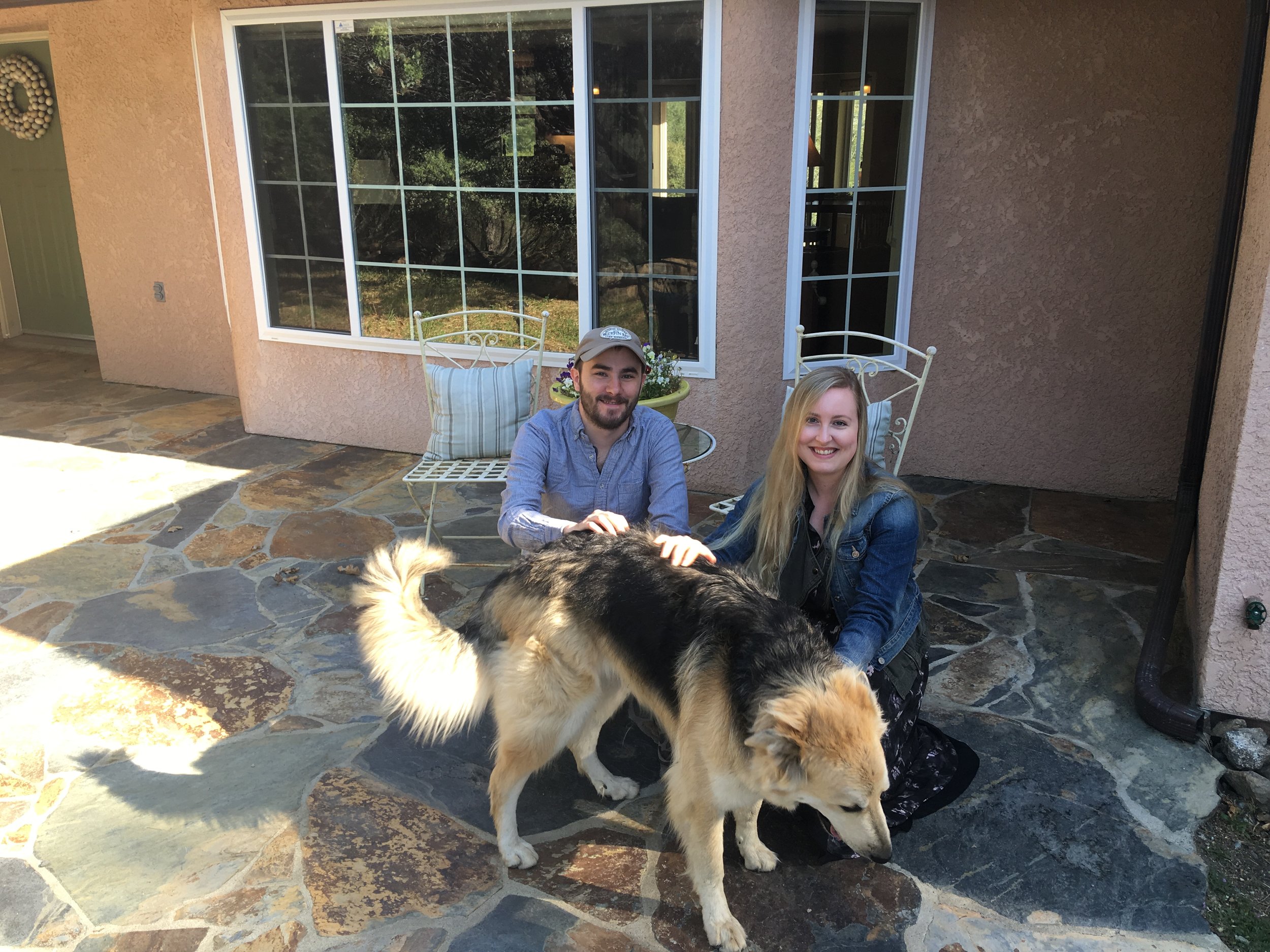 Foxtail Farm is an absolute hidden gem. My husband and I stumbled across the B&B after searching for more cost-effective lodging to stay a few nights so we could explore Yosemite. We initially thought this place too good to be true: Foxtail Farm not only exceeded our expectations, it was the best lodging experience we have ever had and
is truly a destination in and of itself.

The owners, Cheryl and Peter, are incredibly kind and accommodating. They offered great trail advice and sites to see when in Yosemite. Every evening they asked what time would work best for our breakfasts, which allowed us flexibility to sleep-in in our beautiful, immaculately clean and cozy bedroom.

The breakfasts were amazing and artfully presented – freshly-squeezed orange juice, farm-fresh eggs from their adorably friendly backyard chickens, fresh honey from their apiary, and a different delicious main course served every day (their homemade gluten-free banana bread
is some kind of addictive substance…so incredible). As a soon-to-be registered dietitian, I appreciated the simple, wholesome foods served and the attentiveness to special dietary requests.

Oh, and most importantly, if you are an animal and wildlife lover, this is your nirvana! We had the pleasure of meeting Biko and Ursula (AKA Ursi), the resident canines. Ursi looks the spitting image of my childhood German Shepherd, Stina, and the owners allowed me extra
snuggle and play time with her (which, as a dog-lover, I super enjoyed). Some of the more unique and extremely charming residents are the dozens of semi-tame hummingbirds who flock to the numerous nectar feeders in the backyard - it is a must-do to stand or sit near
as the little guys chirp, flit and hover inches from you (great video and photo opportunity!). The egg-laying hens are incredibly charming as well, coming to greet you with clucking and curious looks and following as you stroll the backyard's gravel path.

We cannot wait to visit again and see the many exciting additions Foxtail Farm is making (goats, more walking trails, and a small vineyard). Cheryl and Peter (Ursi, Biko, chickens, and friends), thank you for the many wonderful memories and lovely time!

Sincerely,
Holly & Tyrone Russell
We had a wonderfully relaxing experience at Foxtail Farm. Peter and Cheryl were perfect hosts in their warm and inviting home. Breakfast was scrumptious from the farm fresh eggs to the freshly squeezed orange juice and gluten free buttermilk pancakes with fresh fruit. Our bedroom was beautifully furnished with an amazingly comfortable mattress. The en suite bathroom was immaculately clean and well appointed. Book worms will appreciate the rather large eclectic library with comfy leather seating. Nature lovers will enjoy the beautifully landscaped property that may even include a curious visit from Mahtha and her brood of chickens. Numerous hummingbirds entertained us as they swarmed the row of feeders along the back deck. The family dogs, Ursula and Biko, were friendly and well mannered. We highly recommend staying at Foxtail Farm and would love to visit again some day.
Dan and Elane Hamilton
Set in the rugged foothills of the Sierra Nevada, we found Foxtail Farms B&B a delightful base for a two night weekend getaway to Yosemite. Peter and Cheryl have turned their 98 acre very private property into a sustainable home and small farm complete with chickens for fresh eggs, vegetables and honey bees. A highlight was the close viewing of dozens of hummingbirds at the multiple feeders. The accommodations and breakfasts were first rate. We especially enjoyed the honey cakes with home grown honey. We highly recommend Foxtail Farm.
Dale Raczynski and Donna Blackstone.